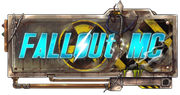 FalloutMC was an upcoming gamemode set to be released on Multicube during the Summer of 2014. FalloutMC is a free-roaming game where you and your friends battle, survive, and thrive through the ruins of the Fallout world, which is being build by The Blockworks build team. As of 2014, Multicube has dropped the project and sold it to another group.
Visit the fallout website- http://www.multicu.be/falloutmc/
At Minecon, people that visited the Multicube section were able to try out FalloutMC, using the demo version of the game.
As of right now. The approximate release date of this gamemode is within Early Summer of 2014
Community content is available under
CC-BY-SA
unless otherwise noted.